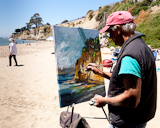 The Pajaro Valley Arts Council presents, Monterey Bay: Land, Air, Sea
This exhibit will celebrate the Monterey Bay National Marine Sanctuary during the 20th anniversary year of its creation.
These images were made during the paint out days that were scheduled at locations around the Monterey Bay, for this wonderful exhibit.
< Click on the image to view the galleries.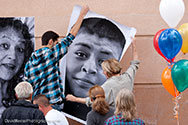 Peace In Our Streets: You Only Live Once.

The Pajaro Valley Arts Council's Inside Out Project has made it to the walls of Watsonville! The portraits of the students from Edward A. Middle, Renaissance High Ceiba Middle and Cieba High Schools are putting a new "face" on downtown Watsonville. Contact the Pajaro Valley Arts Council for more info. 831.722.3062
< Click on the cover to see photographs of this exhibit during the installation.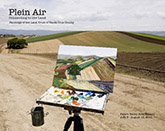 The Pajaro Valley Arts Council releases:

"Plein Air: Connecting to the Land, The catalogue features all of the 124 paintings and sculpture from the original exhibit by 58 local artists. This beautiful book was designed by graphic artist Lisa Zaretsky and photographed by David Reese."


< Click on the cover to learn more.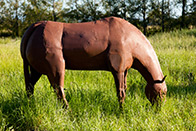 Pajaro Valley Arts Council, 2011 Sculpture IS. This exhibit runs thru October 31, 2011 at Sierra Azul Nursery. They have picnic tables and are dog friendly. Located at, 2660 East Lake Avenue, Watsonville, CA 95076 Open Daily: 9:00a - 5:30p. Phone: 831.763.0939 Website: www.sierraazul.com

< Click on the image to see some of the sculptures currently on display.


All images and content copyright David R. Reese.
1980 - 2016 All Rights Reserved.